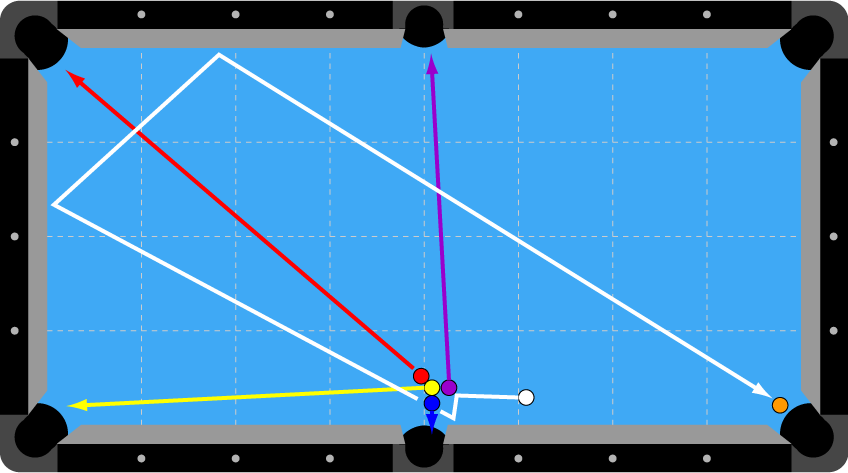 Make This Shot
Here's the whole setup from the top. I start by placing the 2 ball one ball width from the long rail with its right edge even with the side pocket point. The 1 ball is straight out from it, although you may need to move it to the left slightly to angle it towards its pocket. (Figure 1)

Align the 3 ball so the 1-3 combo goes towards the long rail point of the corner pocket. This will allow for throw. (Figure 2)

Place the 4 ball so the 1-4 tangent line splits the side pocket. There shouldn't be a ton of throw here, but this can get tricky if you end up needing to use a lot of spin. (Figure 3)

As seen in the first picture (Figure 1), I put the cue ball 1-1/2 ball widths from the rail, just behind the 3rd diamond. I aim to hit the 4 ball about 3/4 to the left with maximum follow and 1/2 tip right english. Moving the CB towards the long rail will make it go a little longer. Using more right will help the CB keep a little more speed coming off the rails, but watch out for the throw on the 4 ball.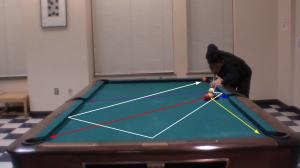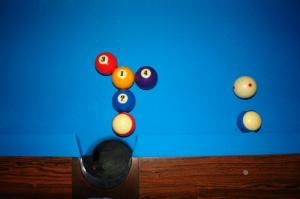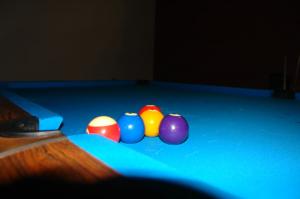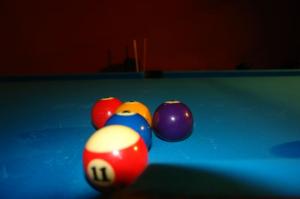 Tim's Tidbit
This is a nice set up shot invented by Paul "Book 'em" Danno and named by Renee' LaViness of Crown Cues. It's a little trickier than it looks, but it's not bad once you get the hang of it.